As I browse around the member portal and look at the biographies of our brothers and sisters; I am extremely grateful to be included among you all. I look at all of the accomplishments in so many varieties of fields and I truly feel admiration for each and every one of you. You are here to make a difference. Who does that?...people like us do. You all make me want to step my game up and I thank you for that. Most of my posts will be methods that I have applied in my own life to create a better body, mind, and spirit. This all around approach to wellness has become the foundation to my life. Hopefully it can help others.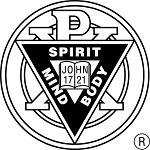 When I was in high school, I was a lifeguard at a local YMCA swimming pool. This image was painted as a wall mural at the entrance. For a couple of years, I naively walked passed that mural, oblivious to the symbolism or message the mural portrayed. But, the lingering effects are seen today, 25 years later. Here I am today offering my testimony on a balanced lifestyle. This fact made me think of
Illuminatiam: The First Testament of the Illuminati
on page 63. "...However, though free and independent to make it's own decisions, your mind has been trained to respond to subconscious cues that are hidden in the world around you. These act as subtle arrows pointing you in the right direction, while allowing you to choose the road you will take to get there." I like that I am getting older now and able to see these cues. I wonder how else these symbols will manifest in my life?
Be well out there everyone.
Look out for one another.
Last edited by dwelchjr on Sat Sep 16, 2017 9:04 am; edited 3 times in total (Reason for editing : grammar)
This is 100% true. And I believe in destiny, that you are
supposed to meet some people. Or have some kind of
experiences. Also - what you give is what you get.

Astarte89




Posts

: 47


Join date

: 2017-08-31


Age

: 29


Location

: Pärnu





Similar topics
---
Permissions in this forum:
You
cannot
reply to topics in this forum